Interview with Cyrielle Christou – Director of the Hôtel AlpenRuitor **** SPA & Restaurants
The 2022-2023 season has just ended at the Hotel AlpenRuitor. On this occasion, we have the pleasure of sharing with you an interview with Cyrielle Christou, Maison Manager of the Hotel AlpenRuitor.
It was a wonderful season, and we are already looking forward to seeing you again next winter for a new ski season.
Hello Cyrielle, can you introduce yourself in a few words?
My name is Cyrielle CHRISTOU, I am 36 years old and I come from the Isère department, from a small village lost in the countryside about 1h30 from Méribel. I am passionate about sliding sports, both in winter and summertime.
After obtaining a BTS in international trade and a master's degree in management, I found a position as a receptionist in Val Thorens while I decided on my professional orientation. Six months later, at the age of 23, I then applied as a tourist residence manager for a small group's residence, and I got accepted. I worked for several companies, evolving in terms of responsibilities and status, until I arrived at the position I hold today.
Director of a Hotel SPA Restaurant during the winter, I change completely in the summer when I become a water sports instructor (kitesurfing, wakeboarding, diving, jetskiing, parasailing, I vary according to the seasons). A true seasonal life!
For how long have you been working at the Hotel AlpenRuitor and how did you become its Director?
I started in December 2018, 5 years ago if we include the Covid year when we were unable to open our Maison. After spending several years on a permanent contract in the management of tourist establishments, I started to really like traveling and decided to move towards a more nomadic lifestyle that would allow me to enjoy it regularly. That's when I looked for fixed-term job offers, to spend the winters in the mountains, and the summers by the sea. A dream and a "marginal" life that I didn't think was accessible…until I saw this offer: "Looking for Maitre/Maitresse de Maison for our Maison Fenestraz the AlpenRuitor." A hotel group that I discovered had real values, which remind me every day of those that are transmitted and shared within my family.
What do you like about directing a hotel restaurant in a ski resort, at the foot of the slopes of the 3 Valleys?
I would clarify this question by replacing "a" hotel restaurant with "this" hotel restaurant. Indeed, for years I have managed tourist establishments in the mountains at the foot of the slopes, but not all of them brought me what I find here. The warmth and family side of this hotel makes my working environment very pleasant. The exceptional location at the foot of the slopes allows me to escape 2 to 3 times a week on average to enjoy the joys of skiing in the largest ski area in the world. Finally, the capability of listening, the availability and above all the trust granted by my director Ophélie JUILLARD and the owners Raoul and Stéphanie FENESTRAZ make me want to invest myself and come back every year.
At the Hotel AlpenRuitor we have many loyal guests, who return to stay in our establishment year after year. What do you think makes so many guests want to come back to the AlpenRuitor every season?
Indeed, we have more and more loyal guests. I think they really like the atmosphere that I was able to create with my whole team. The same comments come up regularly "Your teams are extremely kind, just like you", "It feels like home", "It's great to find the same employees from one year to the next"… We get to know them during the week, create special bonds with them, and provide them with personalized service. The closeness we maintain with our guests probably makes them want to come back every year. And of course, I'm not forgetting all the work done upstream by my colleagues at the head office, without whom it wouldn't be the same!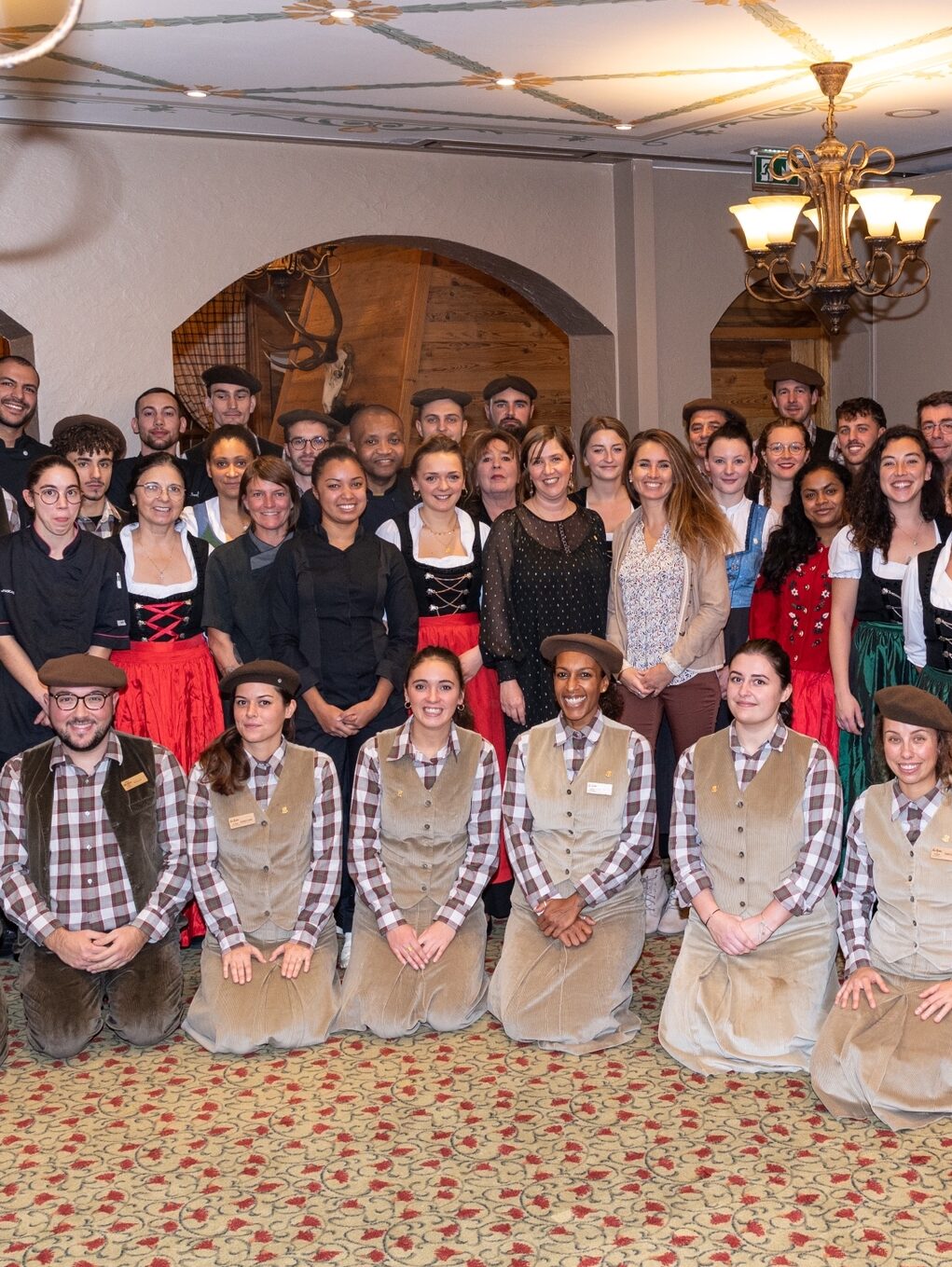 The Hotel AlpenRuitor organises various events every week, such as themed evenings about the countries in which Maison Fenestraz has establishments, or the Ruitor Concert every Friday evening, in which you also take part.
How do these events create a unique experience for the AlpenRuitor guests?
I think that all these events are simple things that they do not necessarily find in more classic high-end hotels. In addition, we do not call on any external contributors, they are all animated internally. It is a real difference that I want to maintain because it creates the atmosphere that Maison Fenestraz wishes to spread within its establishments.
The themed dinners allow original communication about our Group, a story that we tell our guests every evening. And I think that the fact that I personally participate in those events, singing with my valet porter Germain for example, or dressing up every year at Carnival, makes it more intimate: "the director is accessible! ". It's impressive how each animation brings people together.
The AlpenRuitor is also a family hotel, located in the pedestrian ski resort of Méribel-Mottaret. Can you tell us a bit more about everything that is done for children within the hotel?
Every year, I have great pleasure in welcoming new families or seeing the children I have known for 5 years growing up. I have tried to set up entertainment for all ages and they are always a hit: baking workshops with our pastry chef, face painting for children (and even adults!!), Sing Disney with us, Easter egg hunt, costume contest at Carnival, making of masks… each of my employees participate in their own way so that young and old will leave with memories in their heads.
Finally, do you have an AlpenRuitor story or memory that you would like to share with us?
have a lot of great memories! Two come to mind this year:
My ski outing with 35 American clients was great, we had a lot of fun!
During a week of school holidays in February, I had the chance to know 40 rooms occupied out of 44! A real family week!
And many more to come… !!
A big thank you to Cyrielle for her time and for sharing with us her experience as the director of the Hôtel AlpenRuitor!